Our Story
Our story starts in 2008.
Witnessing the seemingly unavoidable disappearance of local artisans and craftsmen, we found ourselves largely unable to purchase quality dress shoes, or having them repaired properly. We were reminded of neighbourhood cobblers, who used to magically revive even the most battered shoes, with a very humble, matter-of-fact mind set. We remembered true artisans, tucked away amongst their tools; their strong, rugged hands working the leather behind a modest counter, sometimes barely bigger than a phone booth.
The Cobbler draws its concept from this legacy.
"A wish to revive traditions and celebrate craftsmanship"
It then became obvious to provide a traditional and ancestral savoir-faire: our Master Cobbler is recognised as a being a 'Compagnon du devoir', a prestigious qualification delivered by a French professional apprenticeship, training to the highest standards of expertise.
We are today extremely proud to say that all of our Craftsmen are delivering their Art within these rigorous guidelines, combining discipline and passion.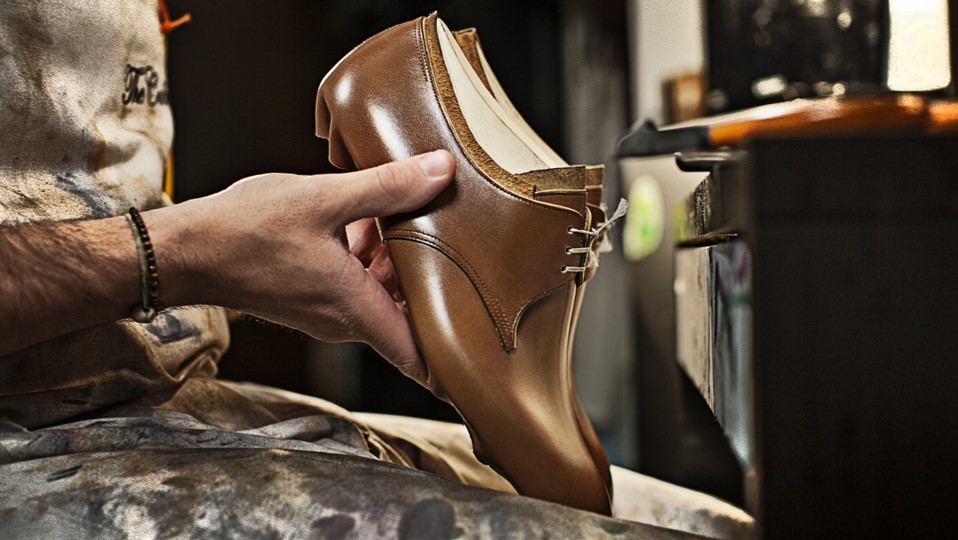 The Art of Being a Gentleman
Style for us at The Cobbler goes further than dapper aesthetics. It encompasses fundamental values of courtesy, honour and exceptional quality; and these are all shared by our craftsmen. This is why sourcing noble materials, ensuring fair manufacturing practices and enhancing knowledge transfer amongst artisans lie at the core of our retail venture.
As such, the essence of The Cobbler lies into designing shoes and accessories made for the modern gentleman.
Acting as a gentleman is an effortless way to raise confidence and cultivate character, without being overpowering.
Our shoes are designed for the confident male, whose timeless poise echoes his education and well-mannered approach to life.
The Cobbler for Her
Ladies, let's be honest, how many times have you heard these words:
"I have tripped my heel in the elevator and now it is all ruined – I had just worn this pair once!"
"I am devastated, my son has dropped some apple juice on my suede bag!!!"
"My white sneakers look grey…"
" Is there really no one in here that can repair this zipper???"
And we could go way further…
Well, don't panic, The Cobbler is there for you!
- First, have a look at our photo gallery, I am sure that you will agree that you've found the right place.
- Let us be in charge: your beloved items need a premium craft. As much as your hair and nails need a trip to the salon from time to time to reveal their full beauty, your leather shoes and bags need the assessment and care of Experts.
- We pick-up and deliver your items to your door in Dubai. What are you waiting for? Have a look at our repair and restoration services.
For any questions please contact our Customer Care via the chatbot below or over the phone on +971 4 296 5416. You might also visit our branches.